Tablet
The following section presents the basic usage and environment of this website for tablets.
*There are some pages unavailable on tablets.
Recommended Environment
The followings are the recommended browsers and operating systems for tablet and smartphone use.(*1)
*1: This information is current as of September 2014. Some functions of this website may not work properly (such as layout corruption) in the unsupported latest version of browsers or operating systems. Using terminals with original extensions (Android) or browsers differ from the default setting may cause the same error.
Switching the screen orientation
The interface of this website is designed for a horizontal orientation (landscape display) and vertical orientation (portrait display). (*2)
Horizontal orientation for tablet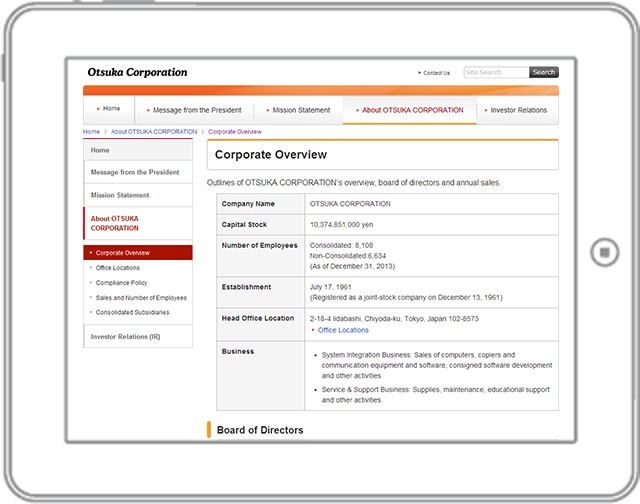 Vertical orientation for tablet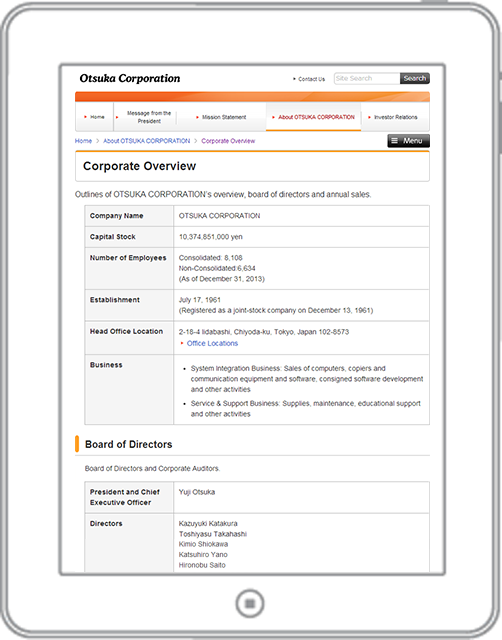 *2: The screen is designed to display in a horizontal orientation when the display size is bigger than 960px. For that purpose the screen may be displayed in a random orientation in accordance with the terminal types.
Menu display in a vertical orientation
By rotating the screen of your tablet, the navigation menu will be stored into the menu button at the upper right of the page.