Compliance Policy
The 'mission' of the OTSUKA CORPORATION GROUP is defined by our corporate identity, our place in society and our responsibility to society. In order to achieve our 'mission' we endeavor to abide by the Goals and Principles as listed in the Mission Statement. In doing so, the OTSUKA CORPORATION Group will continue to be recognized as a responsible company - one that fully satisfies the expectations of its clients, business partners, shareholders and stakeholders.

Corporate compliance has traditionally meant that employees and management comply with laws and regulations relevant to the type of business being pursued. Recently, however, it has also come to mean conformance to social norms regarding moral and ethical standards of doing business, including awareness of environmental issues.

Included in our Mission Statement is our pledge to "fully comply with all prevailing laws and regulations, and maintain high ethical standards". We expect all of our employees to observe strict compliance with this principle.

The information in this section more fully explains our corporate conduct and our compliance policy. It also includes a form to contact us regarding compliance policy and to report suspected violations of policy. Compliance policy information is shown below.

Mission Statement
Principles of Corporate Behavior
In order to fulfill the pledge in our Mission Statement "fully comply with all prevailing laws and regulations, and maintain high ethical standards", we have defined the following corporate behavior with regard to the relationship with our interested parties(such as stakeholders).
I - Client Relations
Provide the best solutions, service and support
We will identify the needs of our clients from their perspective and provide the best possible solutions, service and support in order to satisfy these needs.
Engage in fair and honest business
We will comply with all laws and regulations relevant to each business and engage in fair and honest business practices.
II - Employee Relations
Respect human rights
We will respect each individual's human rights and will not engage in discrimination, sexual harassment or power harassment towards our employees.
Foster personal growth and personal development
We will build and maintain the necessary infrastructure, systems and operations to enable our employees to grow and develop in their jobs.
Provide fair and full compensation
We will provide fair and full compensation to employees for work performed based on achievement, attitude towards work and level of performance.
Maintain health and safety of employees and the work environment
We will help our employees to lead physically and mentally healthy lives and we will maintain proper safety and health standards in the work environment.
III - Shareholder and Investor Relations
Provide timely and appropriate disclosures
We will comply with all laws, regulations and rules of the stock exchange and continuously disclose relevant information in an accurate, timely and fair manner. This compliance is crucial for us to be regarded as a corporate entity that is reliable and socially responsible.
Prohibit insider trading
We will not engage in insider trading in recognition of the fact that doing so negatively affects the soundness and fairness of the securities market.
IV - Partnership Relations
Respect our business partners
We will strive to build fair and principled relationships with our business partners.
Prohibit gifts and excessive entertainment
We will not engage in gift giving in our business relationships, nor will we entertain (or allow to be entertained by) our business partners and/or prospective partners beyond the bounds of socially accepted norms of behavior.
V - Societal Relations
Promote social action programs
In order to enrich society, we will widely and actively promote social action programs and contribute to the good of the local community.
Promote environment conservation programs
In order to coexist harmoniously with nature and society, we will strive to reduce our burden on the environment as well as promote environmentally friendly products and services.
VI - Other Relations
Comply with antitrust laws
We recognize the principles of free and fair competition and will not engage in monopolistic business practices, participate in cartels nor conduct unfair business.
Prohibit unfair competition
We will not compete unfairly in the marketplace; this includes not engaging in commercial fraud, Illegal acquisition and usage of our competitor's trade secrets, etc.
Deal ethically with regulatory agencies
We will make timely and appropriate reports to the relevant regulatory and supervisory agencies. Additionally, we will not give gifts, entertain nor make payoffs to members of public institutions.
Protect intellectual property
We will protect our own intellectual property as well as respect the intellectual property of others.
Protect confidential information
We will protect all information deemed to be confidential (i.e. personal information, client information and our own classified information) and will not share such information with others without justifiable cause.
Reject antisocial elements
We will take a firm stand against antisocial forces that threaten the safety and well-being of society and will refrain from any relations with such forces.
Avoid conflicts of interest
We will segregate our personal life from work, conduct business fairly and not engage in acts that may conflict with the interests of the OTSUKA CORPORATION Group.
Implementation of Compliance Policy
We have set up a Compliance Committee to implement and enforce our corporate compliance policy.
Compliance Committee Functions
Create a plan for compliance training.
Identify potential risks regarding corporate activities and formulate the appropriate response to nullify these risks.
Create a plan of action to deal with compliance violations that may occur.
Plan preventative measures.
Make proposals to the Board of Directors regarding compliance policy and implement the approved policies.
Constituent Member
The Compliance Committee belongs to the Internal Control Committee.
Compliance Structure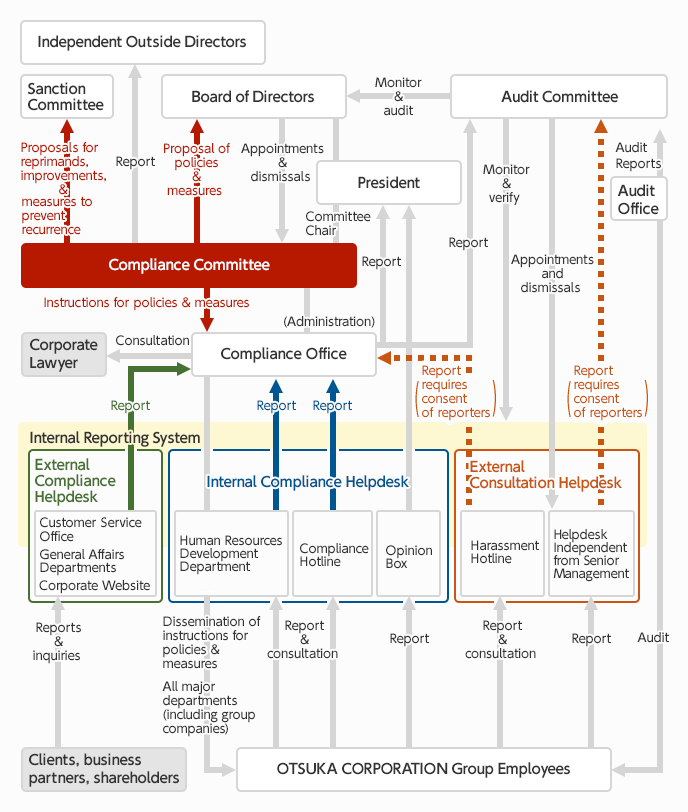 Compliance Helpdesk
We have established the Compliance Helpdesk in order to:
Quickly identify compliance issues as they emerge
Respond appropriately to compliance issues
Prevent compliance violation issues from arising
Please contact the Compliance Help Desk should you suspect any violations of our Corporate Compliance Policy.
The OTSUKA CORPORATION Group, in accordance with the Whistleblower Protection Act, will establish the Compliance Hotline and will endeavor to efficiently respond to any report of compliance violations.
Structure of the Compliance Help Desk
Internal Compliance helpdesks
Compliance Office (compliance hotline)
Opinion Box (direct hotline to the president)
Others - HR Department (manages voluntary notification)
External Compliance Helpdesk (harassment hotline)
Privacy Protection
The identities of persons contacting the Compliance helpdesks, as well as the content of their conversations, will be kept strictly confidential. The Compliance helpdesks will protect persons contacting it from reprisals or other unfair treatment.
Anonymous Reporting and Consultation
The Compliance helpdesks will accept anonymous consultations. In certain circumstances, however, we may urge the person contacting the Compliance helpdesks to waive their grant of anonymity.
Contact from the Outside of the Company
Customer Service & General Affairs Department
HR Department
Contact Us (Compliance Office)